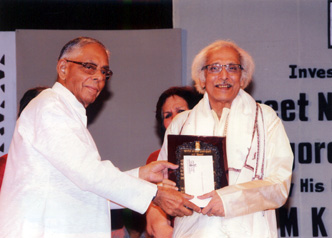 Pandit Amiya Ranjan Bandyopadhyay did his M.A. in Bengali literature and later completed his doctorate in Aesthetics of Music. His Ph.D. thesis 'Sangeeter Shilpa Darshan' (Aesthetics of Music) was published as a book. Since then he has continued his research in his field and a second publication 'Sangeeter Soundarya Chinta' (Concept of Musical Beauty) has come out a few years ago. Pandit Amiya Ranjan Bandyopadhyay has also supervised a couple of Ph.D. thesis. His latest publication is "Smritir Aloy Amar Jiban O Gan" (My life and music in the light of my memory [Part-I and II) (Autobiography). Also his published books are 'Sangeeter Shilpo Darshan', "Gaane O Vramane".

He is the recipient of :-

• Sangeet Maha Sammaan 2016, from Ministry of Information & Cultural Dept. West Bengal Government
• Bhishmadev Award
• Bhuwalka Award
• Girija Sankar Award
• Special Girija Sankar award of the state government
• Sangit Dibakar (Bangiya Sangit Parishad)
• ITC award of Sangeet Research Academy
• Tagore Akademy Puraskar (at par with Sangeet Natak Akademy Award - Delhi)
His CDs containing various Ragas were released by companies such as Bihan Music, Quest, Musician's Guild etc.